---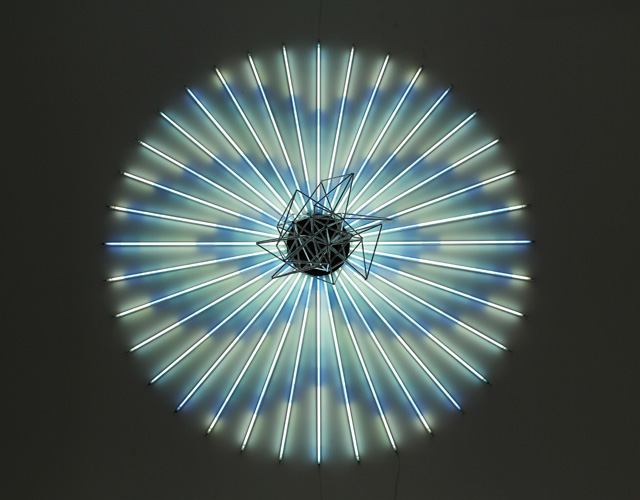 ---
James Clar
Media artist, James Clar, fuses technology and popular culture to explore how and why people interact, behave and communicate and its effect on the individual and society. His works often control and manipulate light—the common element of all visual mediums. Transcending traditional rules and assumptions, Clar employs innovative materials and systems to access new visual, emotional and perceptual opportunities. His works may startle with intimacy, or hint at danger; they may throw doubt into institutional architectures we take for granted. Clar builds upon accepted behavior patterns, playing with the unspoken boundaries that dictate the proper distance between artwork and audience. He jolts us out of complacent assumptions by allowing the art object to initiate conversations and sometimes even answer back.
As an American living in Dubai since 2007, Clar's recent work also explores deeper conceptual themes of nationalism, globalism and the media's effect on popular culture—often analyzing the discrepancies between information relayed by Western media and Middle Eastern media sources.
James Clar was born in 1979 in Wisconsin. He received his BA in Film from New York University in 2001 and his MFA in Media Art, also from New York University, in 2003. In early 2011 he launched "Satellite", a warehouse studio space in Dubai that allows for large-scale experimentation and production. Clar also holds one United States patent (and two pending patents) for engineering systems developed while creating his light sculptures. He was an artist in residence at Eyebeam Atelier in New York, Fabrica in Italy, and the FedEx Institute of Technology/Lantana Projects in Memphis. His artwork has been included in the Chanel Mobile Art exhibition (Tokyo), The New Museum of Contemporary Arts (New York), The Chelsea Art Museum (New York), The Somerset House (UK), Museum on Seam (Jerusalem), and Louis Vuitton Gallery (Hong Kong). Clar is represented by Blythe Projects in Los Angeles and Traffic in Dubai. He lives and works between the United States and the United Arab Emirates.
www.jamesclar.com
satellite.jamesclar.com