---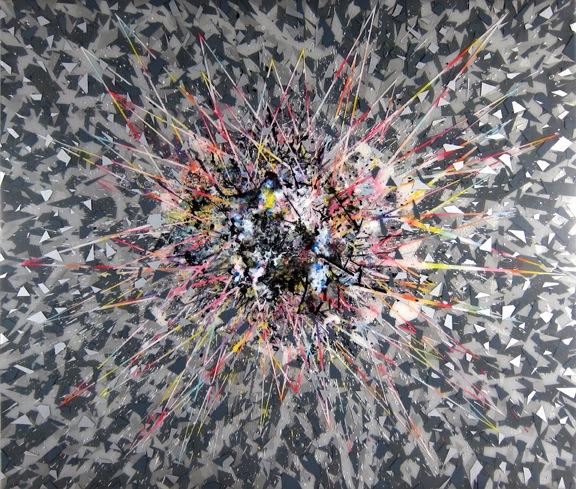 ---
Mark Schoening


Continuing with his signature theme of information explosions, Mark Schoening's most recent abstracted compositions push and pull space with the aid of tonal shifting ray beams and dot matrix fields. His works convey a layering of compression and expansion of time, space and place. Compositions comprised of acrylic, ink and carbon transfer are layered within resin allowing each mark to seemingly float in space; allowing the viewer to visualize a single moment of creation, adaptation and transformation.

I do not have the luxury of escape. In this century, in this moment, few of us do. Information piles up: the advertisements, the mechanisms, the media, the people. I am attached to it, in the midst of it, a part of it. However, as a painter, I am also a witness and a reactionary. The paintings speak of information explosions, where an entire environment can be physically contained in a seamlessly presented two-dimensional world. It is a reaction to the age of technology we find ourselves living in. The way we look at, perceive and process ideas has changed…and because of that…because of what the viewer brings to the experience, these painting could not have been created in any other time. This is not so much a comment on myself as it is the viewer. They now have the ability to take in numerous ideas and aesthetic techniques all at once as a consequence of their everyday lives. What I am doing is letting the ideas fall in a frozen plane, allowing for further investigation.
--Mark Schoening

Schoening's paintings respond to a need to simultaneously channel play and control and to reflect the stimuli and vibration of what is being presented. In his rich and highly worked paintings, he uses abstracted architectural elements, machine parts and urban landscapes to create a new narrative. Through its cacophony of marks, Schoening's work represents the tempo of our 21st century.

Mark Schoening was born in 1981 in Brainerd, Minnesota. He received his BFA in painting from the Massachusetts College of Art in Boston. Schoening's work is in the collections of the DeCordova Museum in Lincoln, Massachusetts and Third Point Management in Manhattan. Additionally, his large-scale sculptures were recently selected by DJ/Producer Damian Lazarus for inclusion in his 2011 GET LOST tour.